Last year, FDC Law raised almost £5,000 for the Bath RUH 'Forever Friends' appeal, by donating fees received for Wills in September, as part of our ongoing commitment to support our local communities.
The Forever Friends Appeal works to fund improvements to the hospital's environment and facilities, which enables both patients and their loved ones to be cared for more proficiently and in a more pleasant environment. In addition, it also assists with ongoing research and aids the hospital's development.
All donations raised by FDC Law as part of the Forever Friends Appeal "Make a Will Month" will go to help the RUH in these ways.
We are delighted to confirm that we will once again be supporting the Appeal by taking part in this year's 'Make A Will Month' in September, and encouraging those who have not previously made Wills, to do so, and to put their affairs in order.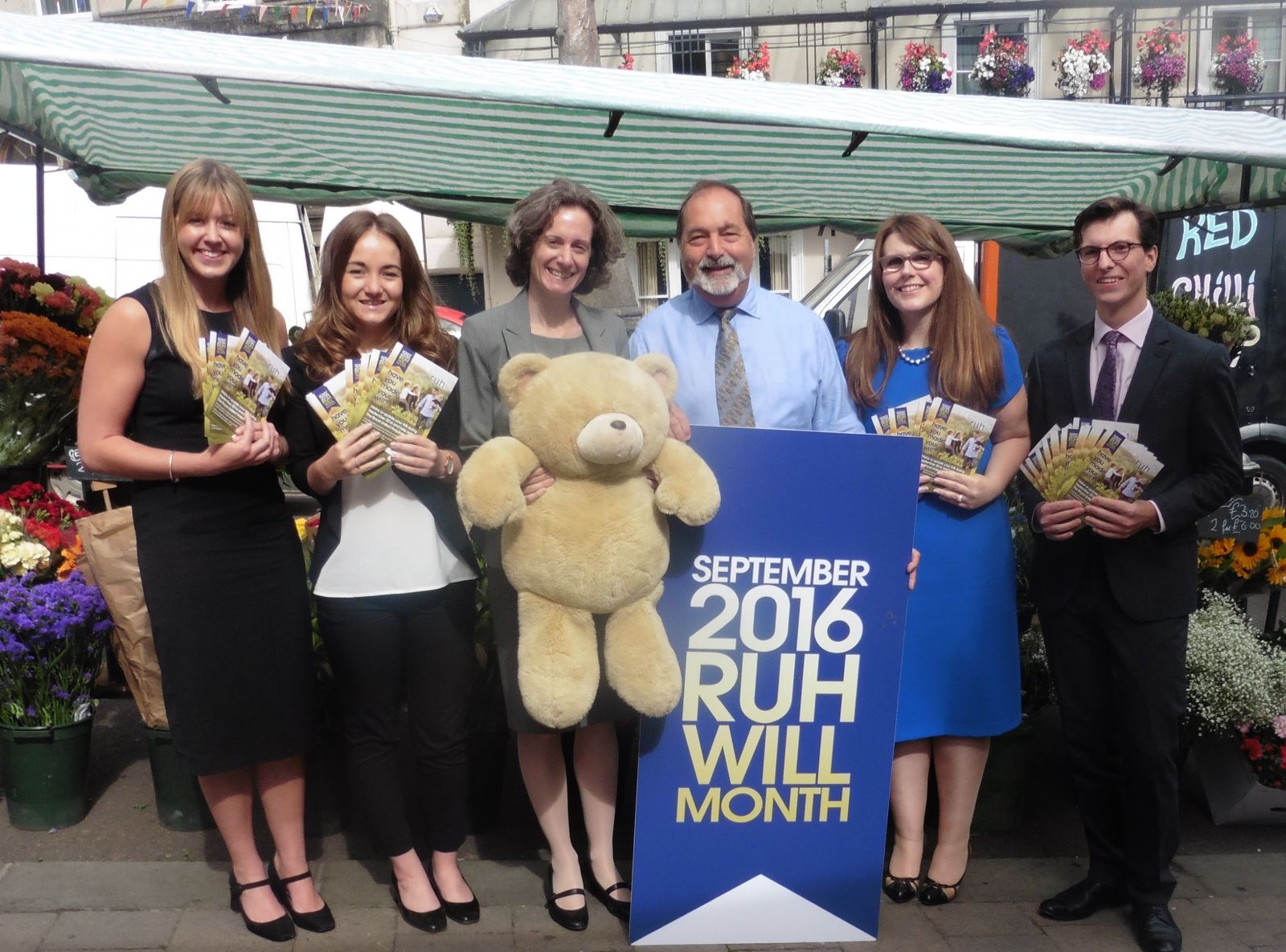 (Leanna Knight, James Hollis, Jane Healey and other local lawyers in Frome preparing for Make A Will Month!)
Dayton Little, of our Private Client Department, explains "Make A Will Month works on the basis that participating solicitors give their time and expertise for free*, to assist clients in drawing up a simple will, with the money the client would otherwise have paid for a will being donated to the RUH appeal through the solicitors. The minimum suggested donation is £100 for a single, simple will, or £150 for simple 'mirror wills' (Identical wills made at the same time by a married couple) although of course higher donations are welcome and allow even greater support to be given to the Appeal." The minimum suggested donations are lower than the normal price for a will, so clients save money while helping a god cause.
Last year The Royal United Hospital's Forever Friends Appeal received a total of £33,000 from local solicitors, as a result of 'Make A Will Month' – the organisers are hoping to beat that total this year, and we at FDC Law will be doing our best to help make that happen!
We are participating in the scheme from all three of our offices.
If you would like to make your will and to help the Forever Friends Appeal at the same time, please contact us to book an appointment in September with:
Leanna Knight in Frome
Dayton Little or Susan Haines at Midsomer Norton or
Gwyn Pritchard at Keynsham
Please note that if you want to make your will and to support the Appeal, you will need to book an appointment for September, and to say, when you call to make the appointment, that you would like participate in the 'Make A Will Month'.
Do be aware that make a will month is normally very popular, and appointments will be provided on a 'first come, first served' basis – when they're gone, they're gone!
*Terms and conditions apply.The scheme offers the opportunity ot make a simple will. Complex wills or more detailed advice will incur additional charges